W. Scott Pattullo's DeviantART Page (which doesn't have an official name) is W. Scott Pattullo's page on the popular social networking and art display website DeviantART. He created it in 2013.
Website
[
]
The page is how Scott showcases his work on DeviantART. Much of his fan art is posted on the site.
History
[
]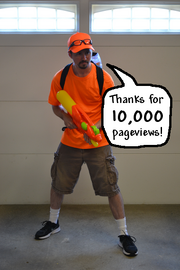 Scott created the page on July 22, 2013. In mid-August 2016, his page reached 10,000 pageviews. He uploaded an image to thank his viewers.
See also
[
]
External links
[
]