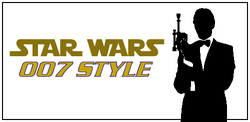 The Star Wars...007 Style is a series of Star Wars fanfiction stories written by W. Scott Pattullo.
Overview
[
]
The series of stories is based on an intelligence and anti-terrorist agency called the Secret Galactic Intelligence Service, or "MI5" for short. MI5 is made up of operatives (similar to secret agents like James Bond) who help keep peace within the Star Wars galaxy.
It is a Canon-&-Legends-friendly fanfiction series, which means it follows the actual events in the Star Wars universe and doesn't alter them.
History
[
]
The series began as text-based role-playing games in TheForce.net's Role-Playing Forum. The games ran from February 22, 2005 to December 31, 2011, with a brief hiatus in 2010.
Scott began writing the fanfiction himself to continue the series in 2012 and posted it on the Star Wars Fanon Wiki. He has written full-length stories as well as a series of short stories (titled MI5 Chronicles) that ties into the main series.
To learn more, visit the main article on the Star Wars Fanon Wiki: Star Wars...007 Style
The Stories
[
]
| Story | In-universe year | Series | Date published |
| --- | --- | --- | --- |
| Bloodline | 3000 BBY | MI5 Chronicles | May 10, 2018 |
| A Force-Sensitive on Naboo | 65 BBY | MI5 Chronicles | April 13, 2013 |
| 503 | 58 BBY | MI5 Chronicles | December 9, 2020 |
| Taproot Uproot | 47 BBY | MI5 Chronicles | April 25, 2013 |
| Escape from the Dragon's Jaws | 47 BBY | MI5 Chronicles | February 2, 2012 |
| Here We Are, Juggernaut | 44 BBY | MI5 Chronicles | May 22, 2013 |
| From Ryloth With Love | 42 BBY | Star Wars...007 Style | February 22, 2005 |
| On Her Majesty's Security Service | 42 BBY | Star Wars...007 Style | May 25, 2005 |
| CarbonEye | 42 BBY | Star Wars...007 Style | September 23, 2005 |
| Dr. Noah | 42 BBY | Star Wars...007 Style | June 23, 2006 |
| Starport | 42 BBY | MI5 Chronicles | March 5, 2012 |
| A Few Kinks | 41 BBY | MI5 Chronicles | March 15, 2012 |
| Arrowhead | 41 BBY | MI5 Chronicles | July 14, 2013 |
| Casino Royale | 39 BBY | Star Wars...007 Style | October 22, 2007 |
| Perils of Hoth | 38 BBY | MI5 Chronicles | July 21, 2013 |
| Muunraker | 38 BBY | Star Wars...007 Style | February 21, 2013 |
| Buck Stops Here | 38 BBY | MI5 Chronicles | August 29, 2013 |
| The Limmie Daylights | 37 BBY | Star Wars...007 Style | April 9, 2014 |
| Oldest Friend | 37 BBY | MI5 Chronicles | August 31, 2014 |
| For Your Photoreceptors Only | 34 BBY | Star Wars...007 Style | July 27, 2017 |
| You've Got Spirit, Kid | 33 BBY | MI5 Chronicles | September 25, 2018 |
| Fondorball | 32 BBY | Star Wars...007 Style | June 22, 2020 |
| Licence To Clone | 22 BBY | Star Wars...007 Style | January 1, 2011 |
The Main Characters
[
]
See also
[
]
External links
[
]