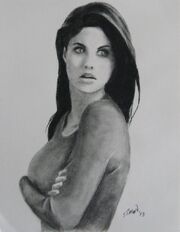 A
portrait
is a form of artwork depicting a representation of a person, usually focusing on an expression on their face. There are also self-portraits in which the artist creates a portrait of themselves.
On this wikiEdit
W. Scott Pattullo produces both portraits and self-portraits.
Scott's workEdit
PortraitsEdit
Self-PortraitsEdit
For a complete list of Scott's self-portraits on this wiki, visit Portal:Self-portraits.
External linksEdit